Featured artist Ed Myers for Sunshine Artist Magazine
By Nate Shelton, Managing Editor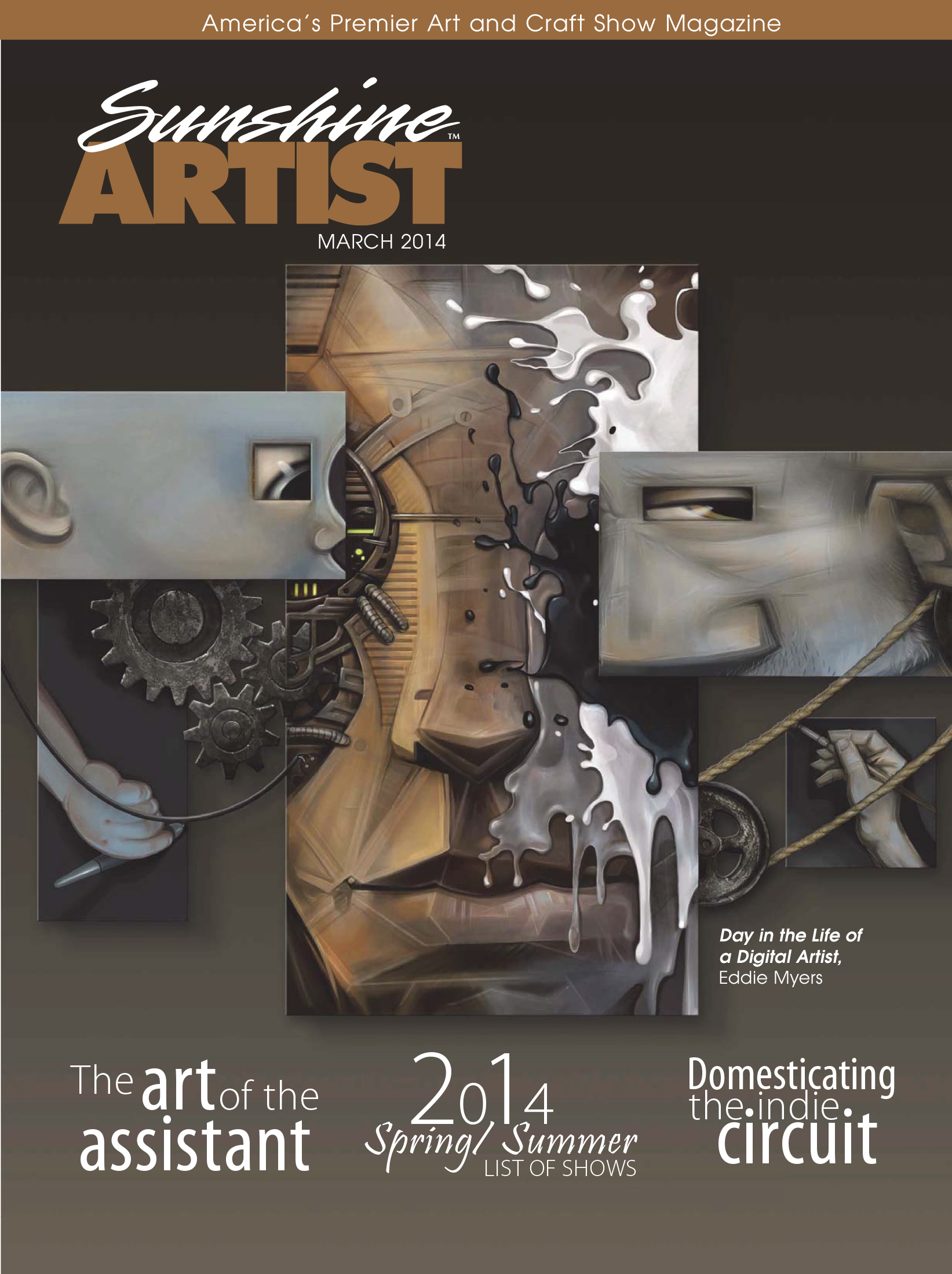 Over the past quarter-century, options for making digital art have come a long way indeed — particularly in terms of ease of use and the ability to produce truly world-class work. Without the efforts of early pioneers like Ed Myers, though, applying a sharp instrument to the nearest cave wall might still be a more viable means of creating images than booting up a computer.
"When digital tools were first introduced, there were major differences between [them and their physical counterparts]," said Ed Myers. "Trying to create a painting in the first Photoshop with a mouse was like trying to paint with a rock. You could do it, but it would take you a really long time.
"Now, with the combined advancements in software and hardware, digital tools have come closer to a natural feel."
As a lifelong painter and sculptor, including extensive use of traditional methods, Myers is certainly in a position to know the diff erence. He's also been a professional artist since the age of 18, which is when he fi rst started creating commercial work for books, merchandise, video games and even theme parks, including projects for clients such as Universal Studios, Scholastic Inc. and Electronic
Arts. As he put it, "…I guess I'm lucky to say that art has always been my hobby and career at the same time."
Although commercial work has been and continues to be his primary source of income, Ed Myers enjoys both. "Doing commercial art keeps me current, while fine art allows me to be expressive. This allows me to keep growing as an artist."
Explaining further, he added: "With commercial art, you are challenged to create someone else's vision. So you often have to let go that it's yours and try to connect to your client's thoughts.
"In fine art," he continued, "it's all yours. However, the challenge is, will someone connect with your vision? Sometimes you have to let go of trying to figure that part out and do what you feel is you."
When it comes to a preference for physical or digital tools, though, there's no contest as far as he's concerned: "…the part that makes digital feel different is how you can explore deeper. I embrace digital, because you don't feel limited."
Interestingly, Myers says that his process for creating digital work isn't too different from what he does for a traditional painting or even sculpture. "First I do a bit of research based on an idea," he said. "Sometimes a lot of research depending on the depth of the piece."
From there, he'll sit down and sketch out the basic composition before performing a thorough color-palette study. He then revises and adds detail as needed until he's satisfied with the outcome, after which there's still more work to do. "That's just the art itself," he said. "Then I have to plan out the assembly, sometimes add in sculpture or objects, etc."
Despite all the time and effort Ed Myers puts into his creations, that's not the most challenging aspect of his career. Instead, he gives that dubious honor to finding acceptance for his work among fine-art connoisseurs.
"Being a digital artist in a fine-art market has been an uphill battle to say the least," he said. "Some get it and some don't. Some think you are cheating, and some think you are brilliant. I think when you create something out of nothing, it doesn't matter which tools you use."
What's more, Myers notes, creating a digital piece can sometimes be more time-intensive than creating physical art. "When I work digitally, getting a sense of scale is really challenging," he said. "You really don't know how large or small you are making something until you see it in real life. Both for the physical size as well as the texture. This creates a lot of trial and error."
About five years ago, Myers took steps to further immerse himself in — and ingratiate his medium to — the fine-art world by becoming an art & craft show exhibitor, and he relishes the new opportunities that opened up as a result. "I guess what brought me [to art shows] is the drive to be more creative," he said. "Coming in as a commercial artist, I really needed the freedom of expression."
While he's only been exhibiting at art festivals for a relatively short period of time, he's already found plenty to love about the lifestyle — including the many opportunities for playing pranks. "My favorite experience at a show so far was replacing [pencil illustrator & October 2009 SA cover artist] Jeff Eckert's award with one that I drew by hand while he wasn't looking," he said. "I've never heard
anyone scream like that."
Myers also admits that he's still figuring out which events work best for him and his art. So far, he cites Florida's Art Under the Stars: The Maitland Rotary Art Festival, Mainsail Arts Festival (St. Petersburg) and Festival of the Masters (Walt Disney World/Lake Buena Vista), as well as Howard Alan Events' family of shows, as being particularly good to him.
It helps that he's noticed a very promising trend as far as his primary medium is concerned. "I do like that shows are starting to recognize digital as its own category," said Myers. "That's encouraging considering I've been painting digitally now for 23 years."
And like most exhibitors, he relishes face-to-face interactions with art show patrons. "Public response has been one of my best experiences, since you rarely hear feedback as a commercial artist," he said. "The best by far is seeing people's reaction when they ask me if this is acrylic or oils. When I say, 'It's digital,' you can see the shock [and] confusion in their faces. That's the fun part."
One thing's for sure: Ed Myers is committed to sticking with art & craft shows till he gets it right — no matter how long it takes or even if his education never ends."Being fairly new in this corner of the art arena, I still feel I have a lot to learn. But I have learned there is no formula, no right or wrong way to do things. The minute you think you have things figured out, that's when a man named Humble slaps you in the face."
In the meantime, he plans to keep growing as an artist and will remain grateful for every drop of assistance he picks up along the way. "Those who have been generous enough to help me the last few years, thank you," he said. "It's people like you have inspired and encouraged me."
More of Ed Myers' work can be found on his website, www.lionoptic.com. ❂