TECH Merchandise
TECH OUT the Goods! Ed Myers focuses on creating artwork that tells a story about man merging with technology. Here you will find TECH Merchandise based on some of his original mixed media concepts. Additional art from past, present and future could end up here so check back from time to time.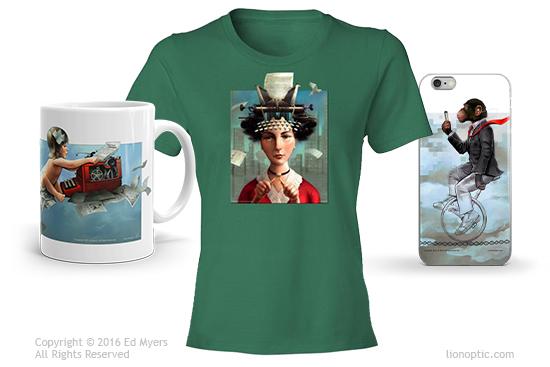 iPhone Cases
Hybrid case combines a solid polycarbonate back, with flexible, rigid sides. It fits your phone perfectly, and protects from scratches, dust, oil, and dirt.
Mugs
A Sturdy white, glossy ceramic mug is an essential to your cupboard. This brawny version of ceramic mugs shows it's true colors with quality assurance to withstand heat in the microwave and put it through the dishwasher as many times as you like, the quality will not be altered.
Unisex T Shirts
Classic tee that has a light feel. Made of 100% ringspun cotton (except for heather colors, which contain 10% polyester).
Women's T Shirts
Your typical 100% cotton t-shirt (except for heather colors, which contain 10% polyester). Pre-shrunk to make sure your size is maintained throughout several washes, and a classic fit.
Beach Blankets
Turn a day at the beach into a fiesta! These beach blankets are made of a super-soft microfiber material. They're great for the beach or as an outdoor throw blanket!
Pillows
This soft pillow is an excellent addition that gives character to any space. It comes with a soft polyester insert that will retain its shape after many uses, and the pillow case can be easily machine washed. And it's completely cut, sewn and printed in the USA.
Art Bags
Bring your favorite design everywhere you go. A perfect tote to bring to Ed's art shows!
Tech out the Goods
Crazy Socks!
ROCK these socks with Ed Myers tech art! They will give you maximum comfort and style simultaneously! Each sock is printed individually in the USA. Buy two pairs of Tesla and Edison socks, then mix them up to create a war of the currents:)
Tech out the Goods page from time to time to see what else Ed has been dreaming up. Ed Myers's merchandise site was created for the purpose of fans and collectors. As of now, wholesale prices are not available. If you would like to inquire about wholesale prices, or would like to become a rep for Ed Myers, please call 407-221-7732.
© Copyright 2016. Ed Myers, All Rights Reserved